Which is the best whitening toothpaste?
It's a question we get asked all the time, here at Kiln Lane Dental. Of course, our tooth whitening treatments are (by far!) the best way to achieve pearly whites. But the results are temporary and, between visits to our practice, patients want a way to maintain their sparkly smile.
So, our answer is simple – Icy Bear Diamond Dust Toothpaste. Professionally developed by our very own principal dentist, Dr Hanna Miraftab, this is designed to provide gentle all-round dental care whilst also creating a high-carat dazzling smile. We believe it is the no.1 whitening toothpaste currently available, even if we do say so ourselves. And we're very proud to be an official stockist.
Here we take a look at just a few reasons why it should be making its way into your daily routine.
3 reasons to invest in Icy Bear Toothpaste

1. Non-abrasive whitening
Icy Bear Toothpaste is unique in that it contains micro-particles of diamond – known as 'diamond dust'. These particles gently polish the surface of the teeth, reducing stains (caused by coffee, tea, red wine, previous dental treatments etc.) and restoring their natural whiteness. But unlike the abrasives typically found in whitening products, they don't cause any damage to the surface of your teeth.
What's more, it's also free from SLS (sodium lauryl sulphate). This is a chemical that, again, is frequently found in shop-bought whitening toothpaste; known to cause irritation and discomfort. But instead, Icy Bear uses natural enzymes. Each tooth is cleaned softly and evenly, prolonging the effects of your last whitening treatment and keeping your mouth healthy and radiant.
2. Total care
Not only does Icy Bear Toothpaste brighten the smile, it also provides total care for your teeth.
The carefully constructed formula helps to strengthen the tooth enamel and successfully protects against cavities. It also contains 1450ppm of fluoride. And as such, it's ideal for daily use and will decrease demineralisation, enhance mineralisation and inhibit bacterial activity in the mouth.
Expertly designed to be used in place of your normal toothpaste. Just brush twice a day with a pea-sized amount and, we guarantee, you'll start to see and feel the benefits in no time.
3. Eco-friendly and cruelty free
As well as being kind to your teeth, Icy Bear Whitening Toothpaste is also kind to the environment. Exclusively made and manufactured here in the UK, it adheres to strict industry standards and guidelines and is 100% palm-oil free. It's also cruelty-free – not tested on or made using animals – and vegan-friendly.
This is a cutting-edge brand on the market; one that will allow you to create a whiter (and healthier!) smile, without having to check the list of ingredients or worry about its wider impact.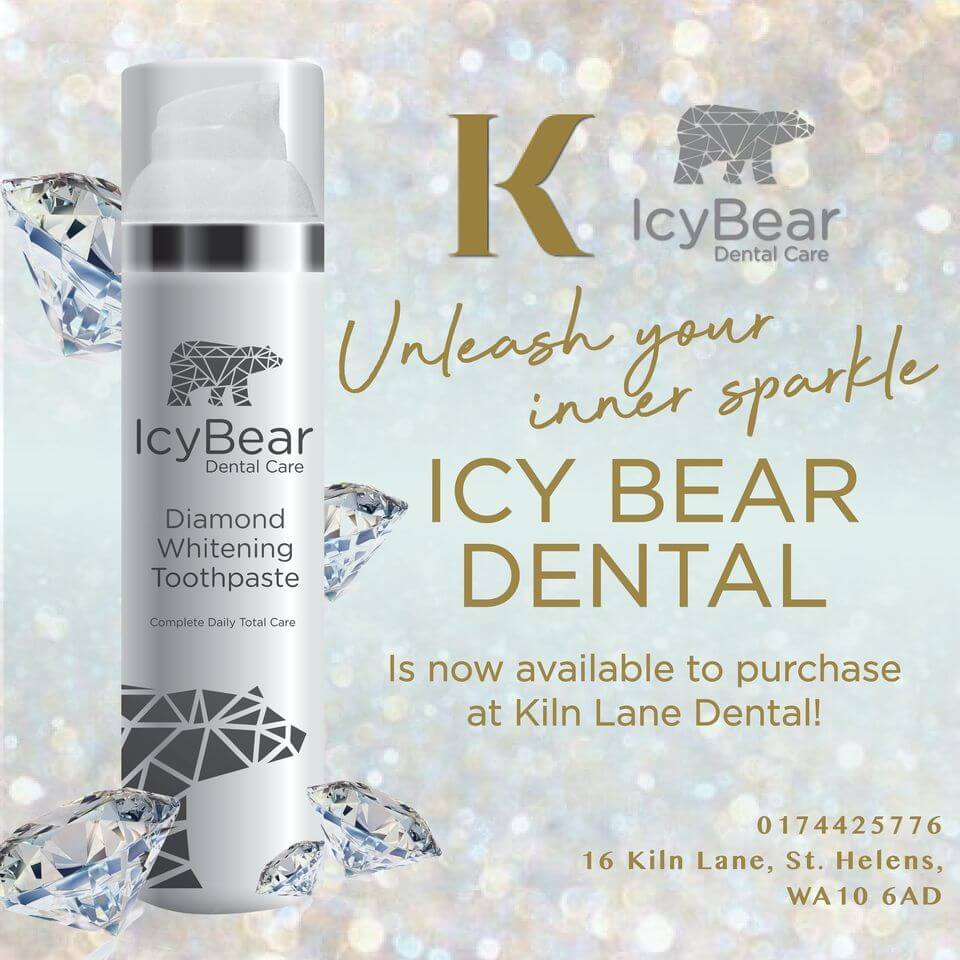 Ready to buy the best whitening toothpaste?
Icy Bear Toothpaste is now available at Kiln Lane Dental for just £17.99. You can either pick it up at your next routine appointment, or if you're eager to get your hands on it (let's face it, who wouldn't be?), you can give us a call on 01744 25776 and arrange to collect it at a time convenient for you.
For more information, you're welcome to get in touch at any time. We're always happy to help and can advise on the best way to unleash your sparkly smile – whether that be a whitening toothpaste, or one of the professional tooth whitening treatments currently available at our practice. Just send an email to info@kilnlanedental.co.uk and we'll respond to your enquiry as soon as possible.