The History
Kiln Lane Dental has successfully been treating patients since 1965 and, in the process, has gained a reputation second to none. That proud heritage, serving the people of St Helens and beyond for more than half a century, means that it has earned its status of being a highly respected and trusted dental practice.
'Tall oaks from little acorns grow' Once, a single surgery practice back in 1965 Kiln Lane Dental has evolved into a multiple surgery, state of the art dental practice offering the very latest treatments available.
THE MANAGEMENT
There is no status quo and this is particularly true in dentistry. Dentistry is dynamic and ever-changing. Technology moves on and this is why, as a practice, we must also change, develop and grow. Hanna, our principle dentist, feels passionately about providing the best possible care for you. She encourages personal and professional growth of her team and believes that learning and developing are key in providing high quality care and treatment.

Hanna qualified from Liverpool Dental School in 2011 before going on to complete a senior house officer role at Kings College Hospital London. She has since completed a Masters Degree in Prosthodontics and has qualifications in non surgical treatments such as anti-ageing injectables. She is also a recognised platinum Invisalign provider and is a member of the prestigious Royal College of Surgeons (Edinburgh).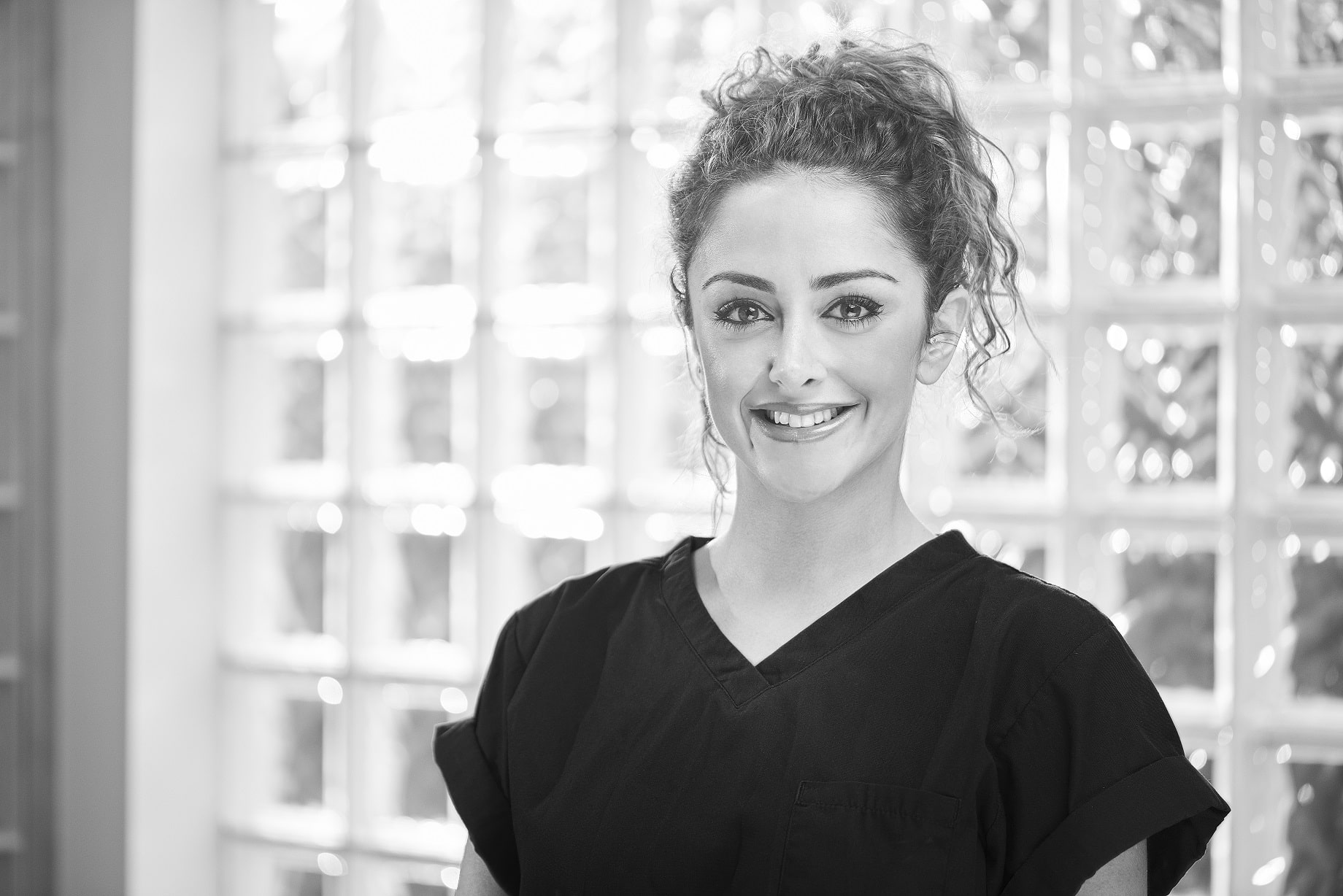 Hanna Miraftab – Principal Dentist GDC number 209650
OUR VISION
Providing you with the best care and treatment requires a highly skilled team with specialised individualistic skills. Whether you are having an implant, a root-canal treatment or even a simple check up, the right clinicians with the relevant skills are essential to give you the best possible care and outcome. Our vision at Kiln Lane Dental is to provide the highest quality care in each and every aspect of dentistry under one roof.
A carefully selected team of dentists, hygienists, nurses and reception staff are here to help and to make you feel as comfortable as possible whilst in our care. We want you to feel happy, safe and confident in us so that you can hopefully sit back, relax and allow us to look after you and your teeth.
Hanna Miraftab, BDS (L'pool) MFDS RCS (Edin) MSc (Prostho)
Principal Dentist GDC number 209650
Brian Duffy, BDS (L'pool) MFDS RCS (Edin) PG Cert Rest Dent
Associate Dental Surgeon GDC number 112504
Maria Lomatschinsky, BDS (L'Pool) MSc Endo
Associate Dentist GDC number 230606
James Stafford, BDS (L'pool) MFDS RCS (Edin) MSc Implantology
Implantologist GDC number 85654
Jo Murphy
Practice Manager GDC number 124239
Rachel Heaton, BDS (Manc) MFDS RCS (Edin)
Associate Dental Surgeon GDC number 177953
Nicola Robinson
Reception Manager GDC number 124293
Emma Scott
Dental Nurse GDC number 152075
Laura Donnelly-Bate
Senior Nurse GDC number 137723
Anita Jones
Dental Nurse GDC number 121006
Alison Edisbury, EDT Liverpool
Dental Hygienist GDC number 17098
Joanne Rayka, EDH Liverpool
Dental Hygienist GDC number 6292
Call Now Button