This is a question we get asked all the time, here at Kiln Lane Dental.
"Do I have to be a member to receive a one-off treatment?"
Quite simply, the answer is no.
As a professional and patient-focused dentist in St Helens, we're happy to help anyone. Perhaps you're struggling to get an appointment with your own dentist, due to the backlog of lockdown? Maybe you're tired of having to join a long waiting list for treatment? Or just fancy trying somewhere new? Whatever the reason, you're always welcome to join us for a one-off consultation.
Appointments can be made at any time without a membership. Simply use our online system or give us a call to arrange a date and time that works for you. But keep in mind, we currently have lots of availability to take on new members – and being a member at Kiln Lane definitely has its perks.
Dental memberships at Kiln Lane Dental
Subscribing to one of our dental memberships has many benefits; primarily, the price. Plans start from just £14.68 per month for an adult membership and £5.25 for a child's membership. Which means, you will automatically save each year on the cost of routine oral health appointments.
As a member, you will receive:
Two appointments with your dentist
Check-ups are recommended around once every six months. After all, 'prevention is better than cure' – and by regularly visiting the dentist, any issues can be detected and resolved in the early stages. Our members are therefore offered two complimentary appointments each year. This includes a thorough examination, x-rays if necessary, and future treatment planning.
Two appointments with the hygienist
Dental cleaning is also recommended every six months. As such, in addition to routine check-ups, our members can also enjoy two preventative appointments with the hygienist. This helps to keep stubborn plaque and calculus at bay and can prevent a range of dental issues. What's more, the hygienist will monitor your gum health and offer tips on how to look after your teeth at home.
Priority for emergency appointments
Kiln Lane is a leading emergency dentist in St Helens and we strive to help anyone with an urgent dental problem. However, when it comes to emergency appointments, our members are always given priority. We guarantee you will be seen within 24 hours for a temporary emergency procedure, and any prescriptions (e.g. antibiotics) will be provided completely free of charge.
You'll also receive worldwide trauma and emergency call out insurance, to protect against the cost of unforeseen accidental damage.
Discounted treatments and oral health products
We like to repay your loyalty. Therefore, members can enjoy a generous 20% discount on a wide range of our treatments and products (50% for under 18s). You'll also have access to our 'Practice Plan Perks', allowing you to save money when shopping online at a variety of popular retailers.
Redundancy protection
Last but not least; we understand it's been a tough year. Everything is uncertain at the moment and lots of people are concerned about the security of their jobs. Signing up for a monthly dental membership may seem like a big commitment. But it will help you to save money in the long run. And to put your mind at ease, we now offer redundancy protection with all of our memberships.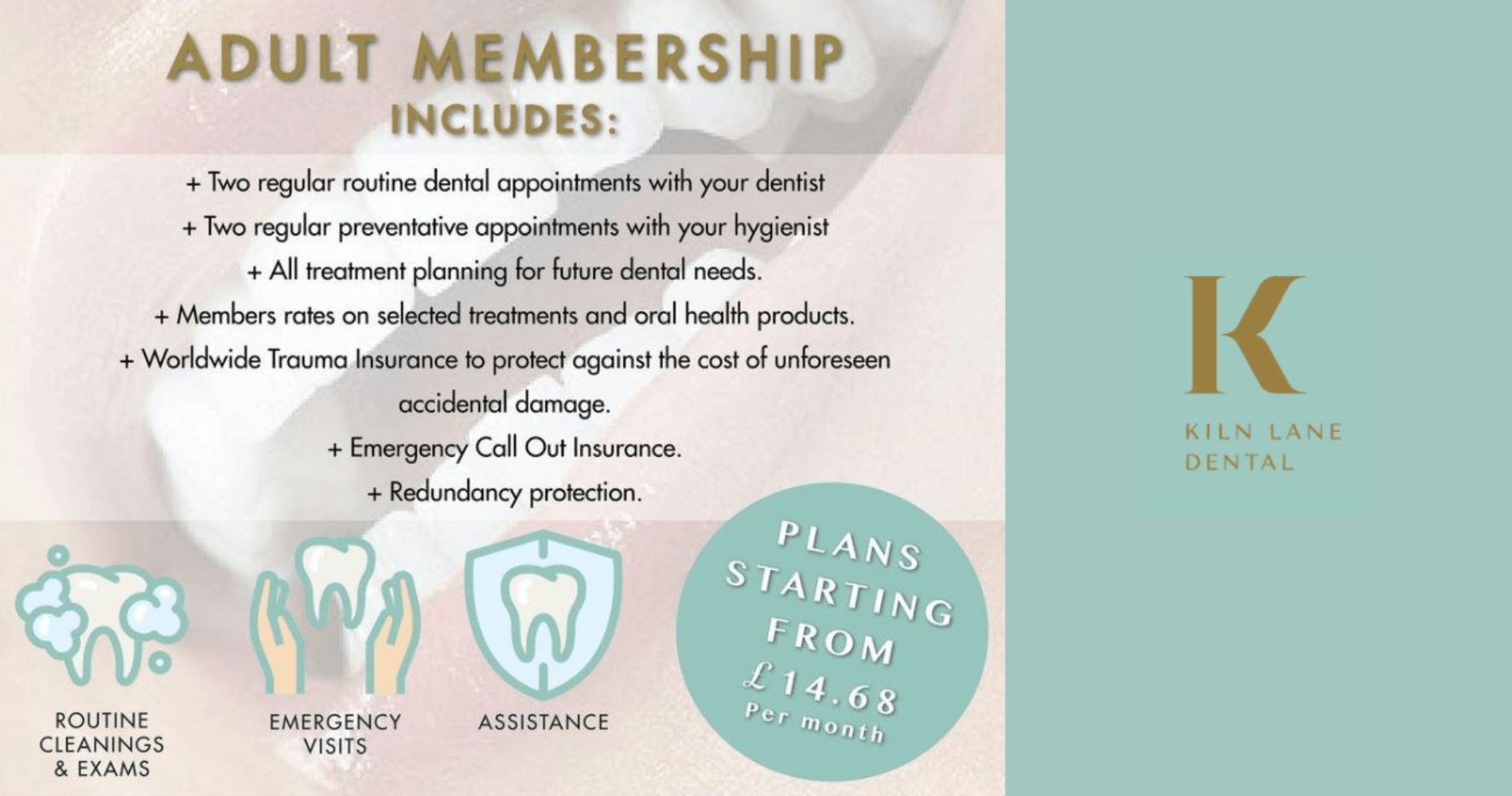 Visit our leading St. Helens dental clinic today
Whether you'd like to see a dentist for a one-off treatment or are interested in our dental membership schemes, please don't hesitate to get in touch. You can either book your appointment online or, to discuss your options with a member of the team, give us a quick call on 01744 25776.
Anyone is welcome to visit our clinic at Kiln Lane and we'd be delighted to help in any way we can.